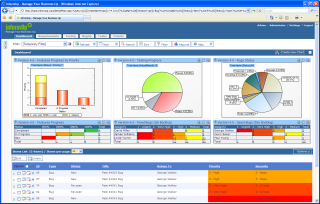 Bug Tracking System
The only Bug Tracking System with a native screen capture!!!
Save you time!!!
Simple yet flexible for the small and mid-sized companies
Low prices, get started for 5$/user
Hosted or locally installed solutions
BugUp Tracker is a simple yet flexible bug tracking system and issue tracking system for the small and mid-sized company type that provides a clear and centralized overview of the development cycle.
Low prices (started for 5$/user) and our hosted or locally installed solutions, allows everyone to use it from a small team to a mid-sized company.
Use BugUp to report issues/bugs from the local and offshore sites, plan and track development cycles and successfully build the next product release.

BugUp Tracker was created to track issues, requirements and bugs. Bug tracking system and issue tracking System requires several software attributes BugUp has imbedded into its DNA, from item linking, to customized workflow queues and dashboard view.
These attributes support project management of the application's development lifecycle, especially the bugs' resolution part of it.

BugUp Tracker could be purchase and implemented as a stand alone application or use informUp Hosted Solution (software as a service aka SaaS or software on demand). Still, in order to benefit from its full capabilities, BugUp should be integrated as part of the informUp application lifecycle management solution which includes a complete solution for the development lifecycle process.

Choosing BugUp will add the ability to create and report bugs in just several minutes.
Why choose our Bug Tracking System and Issue Tracking System:
1. Since the application is web-based, data and status regarding the product is accessible in real time.
2. Create an unlimited amount of projects, products components and bugs.
3. Email notification of updates.
4. User defined system flows and a powerful rule engine.
5. Dashboard customization per user enables a real-time and updated view of data.
6. Manage and track resources progress and status of local and offshore work load.
7. Fully customizable and flexible system.
8. Powerful filter and search capabilities.